Get more great content
Sign up today for our free newsletter.
Close
How to Meet Your
Crowdfunding Campaign Goals
Crowdfunding is the art of raising money from lots of people, typically in small amounts. When you were a kid, did you ever go door to door and sell chocolate bars to raise money for a cause? It's like that, but instead of selling chocolate, you're helping to make the world a better place.
Because the stakes are higher, you might feel some pressure when launching your own crowdfunding campaign, especially if it's your first time. Don't worry - with these tips, you'll have a good idea of how to go about meeting your fundraising goals.
1. Setting a Pace
As a rule of thumb, you want to be able to raise one-third of your total campaign goal from people you know in the first two weeks of your crowdfunding campaign. For example, if you're trying to raise $45,000 to help a church in your community go solar, you should try to reach $15,000 in those first two weeks. Studies show that if you can hit this target amount from your network, then you are much more likely to reach your ultimate fundraising goal.
That means you want to be sure to start with a lot of momentum! Put together a contact list of all your personal contacts that might be interested, and have an email ready to go on day one with a short and sweet pitch and a link to your donation page. Don't be shy to ask high school friends or former co-workers either - remember, you're asking them to contribute to a great cause, so even if they can't donate they'll admire what you're doing and maybe even help you spread the word!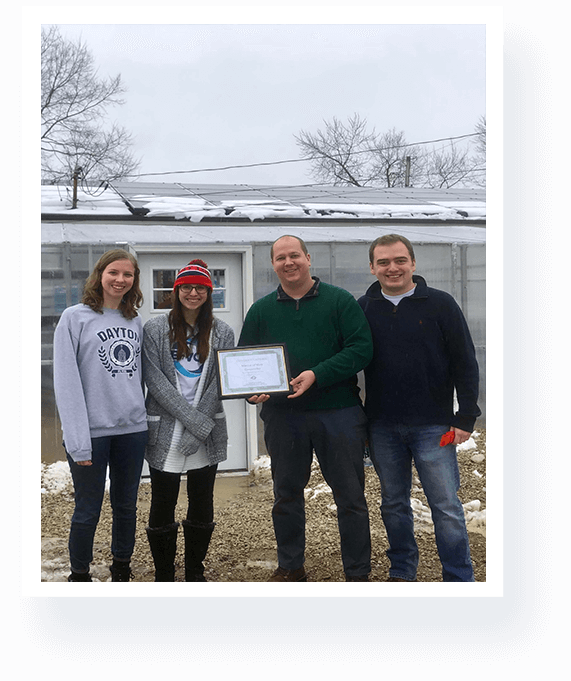 2. Use a Fundraising Pyramid
$15,000 (in our solar example) seems like a lot of money to raise in just two weeks - and it is! It can be daunting to look at a big number like that without a plan of how to get there, so it's important to break it down into more manageable chunks and strategize accordingly.
Those 'chunks' are known as a fundraising pyramid, which is a goal-setting tool that all fundraisers use. Meeting your goal will require a few of big donors at the top of the pyramid, a larger number of medium-sized donors in the middle, and a lot of small donations to make up the foundation. So, for example, you might reach $15,000 with two donations of $2,500, 20 donations of $250, and 100 donations of $50.
Once you've broken up your total goal into these smaller pieces, think about who in your network might be able to help at each level - and get creative about ways to reward them. For example, are there any local foundations, businesses, or celebrities with a relationship to the church you're helping that might want to make a $2,500 donation in exchange for having the solar installation named after them?
3. Use the Power of Video and Social Media
Crowdfunding is similar to an old-fashioned grassroots fundraising campaign, where family, friends, and neighbors chip in for something to benefit the community. However, because it's all done online, you can leverage the power of video and social media to help you reach people all across the country (or even the world!). These will be particularly crucial tools for filling out the bottom of your fundraising pyramid with all those small donors, so be sure to have a social media strategy prepared and ready to go on launch day.
Make a short, 2-3 minute video to introduce your project, show the people you're helping, and help people understand why it's so important. Draft social media posts in advance to share your campaign and video, and provide campaign updates (and a link to your donation page) every day. Create a page or event for your campaign on Facebook, and use your personal handles or a special campaign on Instagram and Twitter to spread the word.
And finally, always remember: people don't give to organizations or to causes, people give to people. Your friends will donate because YOU asked them to. Their friends give because they asked them to. And so on. So it's critical to not only share your video and social media posts throughout all of your online networks - you need to ask all your friends, supporters, and donors to share it with their social media networks, too.
That is the power of social media, and at the end of the day, that's the power of crowdfunding too: bringing people together for a great cause.
Donate
About RE-volv
We believe that everyone should have the ability to support and spread clean energy. So we created a new way for people to take action. It's a pretty simple idea. Through an innovative solar financing model, these nonprofits immediately save on their electricity costs. As these organizations pay us back, we reinvest the money into more solar projects in communities across the country. This creates a revolving fund for solar energy that continually perpetuates itself building more and more solar. It's a pay-it-forward model for solar energy. We call it the Solar Seed Fund. Spread clean energy and make a tax-deductible donation to the Solar Seed Fund.
RE-volv is 501c3 nonprofit.
Let's do this