It's time for your nonprofit to
benefit from solar
Spend your hard earned money on your mission. Not on dirty energy.
Partner with RE-volv and go solar through our nonprofit-tailored financing model.
Community serving nonprofits can go solar for zero down and save 15% or more on their electric bills with RE-volv. These organizations save money on their electric costs while paying RE-volv back through a 20-year contract. RE-volv Solar Ambassadors will work with you to engage and educate your local community around the benefits of your mission, and the power of solar energy.
This unique model removes barriers to financing solar for nonprofits, trains the next generation of climate leaders and brings clean energy education to your community.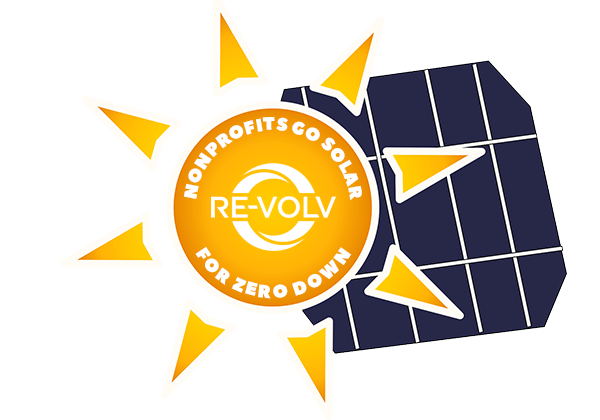 Sign Up Your Nonprofit
Solar for Nonprofits
Benefits of working with RE-volv
Requirements
We work with community-serving nonprofits interested in going solar.
Nonprofit preferably owns the building (but not a requirement).
Roof must be in good shape or less than 10 years old.
How it works
1

RE-volv reviews your application and provides a quote.

2

If approved, we sign into a partnership agreement.

3

An accredited solar installer installs your system.

4

Save 15% or more and lock in electiricy rates for 20 years.

5

All warranties, operations, & maintenance are covered.

6

Solar Ambassadors will help engage and educate the community about your nonprofit's work & the benefits of solar.

7

Lease payments are continuously reinvested into the Solar Seed Fund – a revolving fund used to finance future nonprofit solar projects. Each nonprofit helps 2-3 other nonprofits to go solar through our pay-it-forward model.