RE-volv for Solar Employers
Become a RE-volv Employer Partner today!
We listened to employers like you and students before designing our best-in-class sustainability fellowship program. Since 2014, we have trained nearly 400 Solar Ambassadors with real-world work experience and special skills in solar energy, technology, finance, policy, event planning, project management, communications, and community engagement. Our Ambassadors have gone on to work for top companies in solar and sustainability including Sunpower, Sunrun, Open Solar, 3 Degrees, Solstice, and Mosaic.
RE-volv Employer Partners make this work possible and benefit from our talent pool and training programs.
Access Top Climate Talent
Have a job opening? RE-volv's Solar Ambassador Program attracts and engages some of the brightest and most motivated students in the sustainability field. As a RE-volv Employer partner you'll receive exclusive access to virtual job fairs and we'll directly refer our graduating Ambassadors to your open positions.
Help Shape Programming
Employer partners get insight and input into the Solar Ambassador curriculum, ensuring that program graduates are uniquely prepared for careers at your company.
We'll be in touch as soon as you fill out the short interest form. Join us as we empower the next generation of sustainability champions.
Become a RE-volv Employer Partner today!
Meet the RE-volv Solar Ambassadors!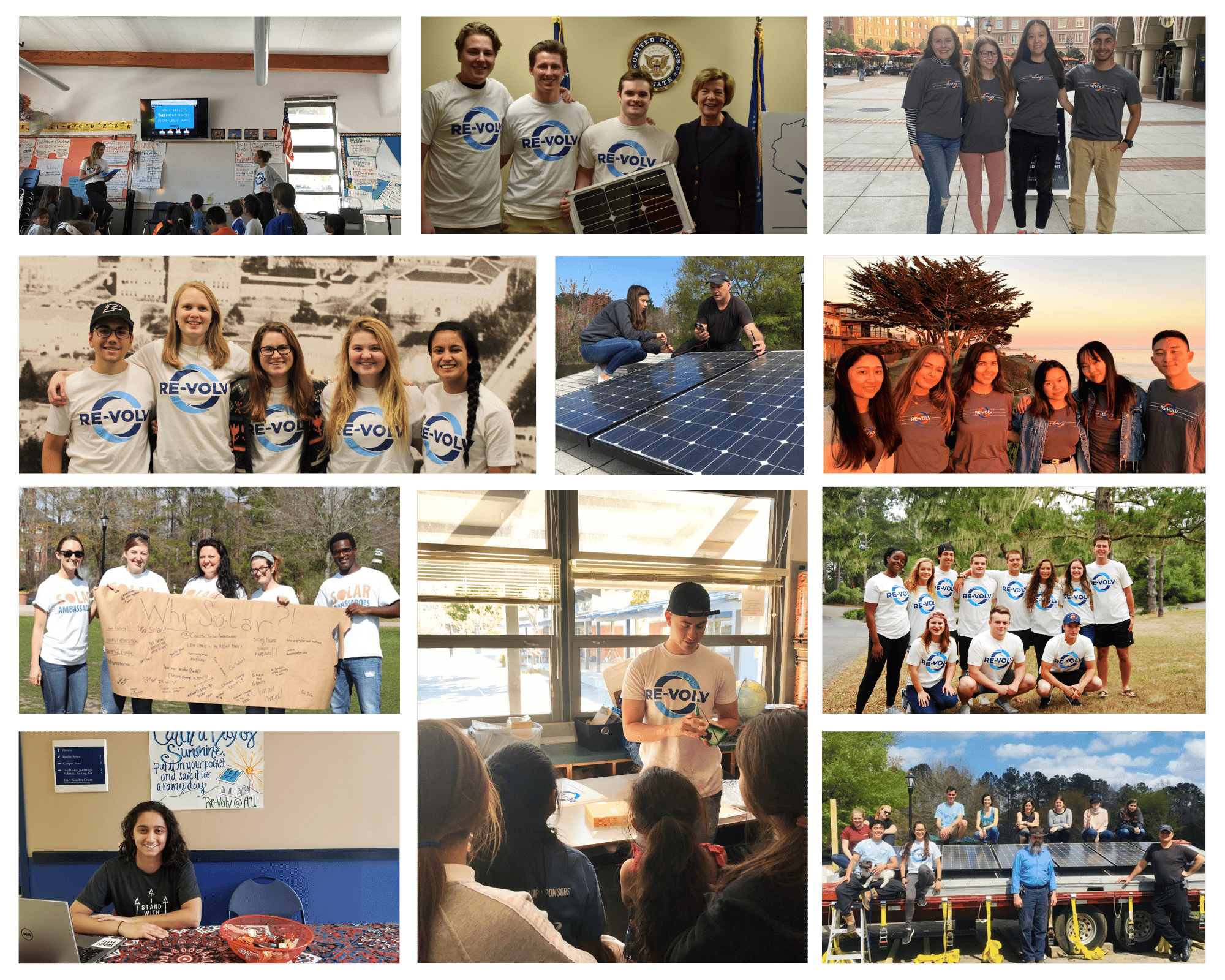 About the Solar Ambassador Fellowship
RE-volv's Solar Ambassador Fellowship trains the next generation of clean energy leaders while providing Ambassadors with the skills and tools to bring solar to a nonprofit in their community.
We provide our Solar Ambassadors with professional development opportunities, including training in solar energy, technology, sales, and finance, event planning, communications, and community engagement as well as project management experience in bringing solar to a local nonprofit. Solar Ambassadors work in teams to bring solar to a local nonprofit, including finding nonprofit leads, walking the nonprofit through the solar proposal, hosting a ribbon cutting event, creating a highlight video, and educating the community about solar.
As part of the Solar Ambassador program, Fellows gain the skills needed to be a competitive candidate for a variety of positions at solar companies upon graduation.
Solar Ambassador Fellowship Certificate of Completion
Our Certificate of Completion is a 120-hour certificate that Solar Ambassador Fellows receive after the successful completion of the year-long Fellowship experience. The Certificate of Completion provides employers with confidence that the Solar Ambassador Alumni successfully completed the requirements of the Fellowship and are prepared to successfully enter the solar and renewable energy fields.

Requirements for the Certificate of Completion
Training and Professional Development:
1.

Attend 2-Day Solar Ambassador Leadership Summit

2.

Attend minimum of six solar professional development workshops

3.

Complete RE-volv's Solar Ambassador Bootcamp Training Course

4.

Complete RE-volv's Solar Career Preparation Training Course
Projects and Experience:
5.

Pitch solar to nonprofits and generate leads

6.

Plan and host a minimum of three solar education events

7.

Write a blog post about renewable energy

8.

Educate the community about solar energy
Recruit RE-volv Solar Ambassador Alumni Talent
If you're an employer interested in recruiting RE-volv Solar Ambassador Alumni or recent graduates of the program, we invite you to get in touch with our team. We look forward to sharing your employment openings with our qualified Solar Ambassador Alumni.