From Solar Ambassador to Renewable Energy Sales Representative:
A Solar Ambassador Alumni's Story
Cat Sweeney was a RE-volv Solar Ambassador at Coastal Carolina University from 2016-2018 and helped bring solar to the Veterans of Foreign Wars (VFW) Post 10804. Cat graduated from Coastal Carolina in 2018 with a Bachelors of Science in Sustainability and minors in Marine Science and Art History. Learn more about Cat's experience as a Solar Ambassador below!
What encouraged you to become a RE-volv Solar Ambassador?
Honestly, I had not been doing super great in school for the past two years. I received an all-campus email from Dr. Martin, the Solar Ambassador Team Advisor at Coastal Carolina, looking for students to form a Solar Ambassador team at Coastal Carolina University. It took me about two weeks of looking at the email, and then on the last day that she had asked for replies I sent back, "I don't really know anything about renewable energy, but I need some kind of motivation, so let's try it out!"
What were some skills you gained or things that you learned as a Solar Ambassador?
Definitely public speaking skills and leadership skills. After the first year, many students from the team graduated or needed to focus on their studies outside of the program. So I was the only one who stayed traditionally a part of the team from the launch of the program and I served as the main contact for the new students to ask questions about what worked and what the team should be working on moving forward. I had a lot of responsibility and I got to experience and learn what it was like to be a leader.
I was also able to present at the Association for the Advancement of Sustainability in Higher Education (AASHE) conference with another Coastal Carolina Solar Ambassador, Dr. Martin, our team's advisor, and Andreas Karelas, the Executive Director of RE-volv. There are many opportunities and experiences that I would have never been able to experience without this program. It definitely helped me start being a leader in the field and more specifically with my company, 3Degrees.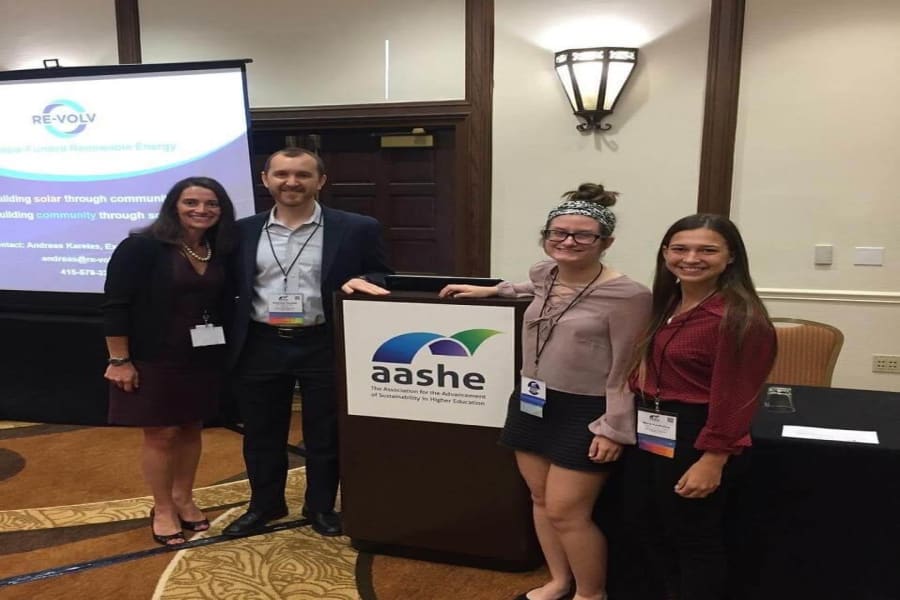 Cat presenting at an AASHE Conference with Dr. Martin, Andreas, and fellow Coastal Carolina Solar Ambassador Maria
What was your role on the team in helping bring solar to VFW Post 10804?
I loved working with the folks at that outpost. During that project I moved about a mile away from the outpost in Little River, which was really nice because I got to see the project evolve over time. My role on the team was working on outreach and community engagement. I did a lot of social media work along with educational outreach to students and the community. When we were talking to the folks at the VFW we were able to explain the solar lease to them, the benefits of going solar, and answer their questions about how the program worked. It was an overall great experience.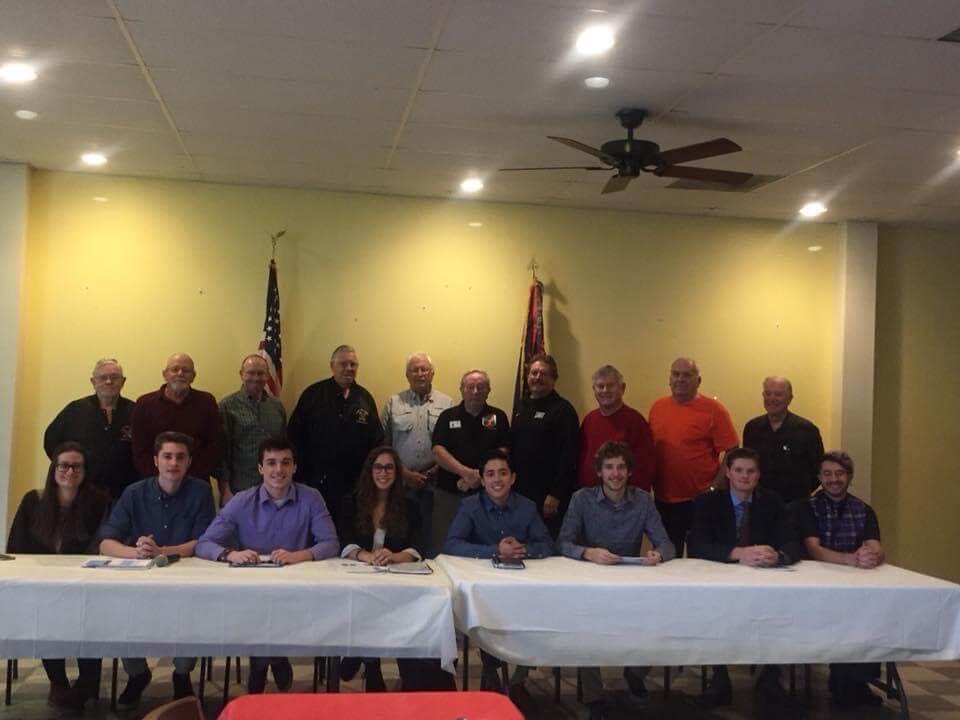 Second Solar Ambassador Team at Coastal Carolina along with members of VFW Post 10804
How did the community respond to the VFW's solar installation?
We couldn't have picked a better nonprofit. Everybody loves veterans in the first place and there's a VFW outpost everywhere! If you just drive around Myrtle Beach, there's so many I didn't realize until we started working with them. Our team's second project was also with VFW Post 10420! The community wants nothing more than to be able to help the veterans so they were excited to donate to the crowdfunding campaign so the VFW could have cheaper electricity.
We also did a lot of community engagement work, where we would go out into the community during events to talk with the community about the project or set up a table on campus and talk to students. In South Carolina, when we do community outreach around solar, we really were teaching people about renewable energy, as many people were learning about how it worked for the first time. I got the chance to really learn how to explain renewable energy to people who have never heard about it.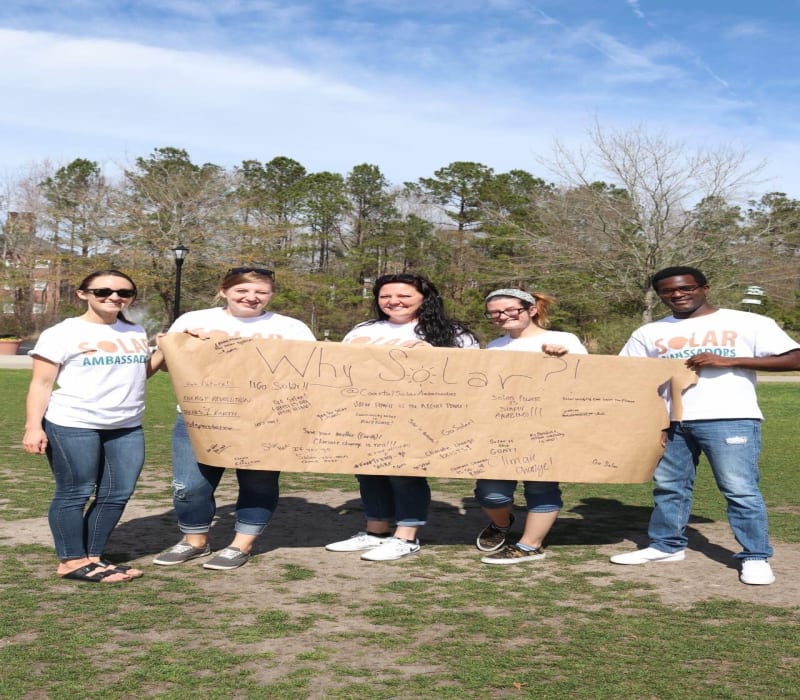 A few Soar Ambassadors from Coastal's first team during an on-campus event where students were asked why solar was the way to go
What are some ways you engage with the community to teach them about solar energy?
In my job now, I sell Renewable Energy Credits (RECs) and carbon offsets. I've found that explaining renewable energy from the ground up to many people in South Carolina can be hard, because there are a lot of supporters of coal here. But as a solar sales representative, I try saying something along the line of, "I totally understand what you're saying. Did you know that solar panels last for longer than 45 years?" Just trying to bring them back to what we're talking about is helpful. They can support coal all they want, but the more types of energy you have on the grid, the stronger it is. So I try to focus on energy independence, especially in the south and being able to give people a choice to choose the types of energy on the grid, along with highlighting that solar helps create jobs.
Where are you working at now and what is your role at the company?
3Degrees was the first job that I got after graduating, which started as part time work selling RECs. I was going to community events and talking with utility customers asking them if they would like to choose what type of energy they support through their electricity bill and offset their electricity bills with renewable energy. I was also working full time at a convenience store and working with 3Degrees on the weekends to gain experience in the sustainability field. Once COVID hit and in-person events stopped, I was hired to do outreach through a call center, which was a full time position.
In my current role, I am calling customers in Michigan where I am working with the local utility selling carbon offsets to protect forests in Michigan. The offsets are coming from improving forest management, where we're helping Michigan forest landowners move away from the timber industry and get into the carbon market. The gas customers are essentially purchasing those carbon offsets from not using these forest lands for timber. The offsets also support renewable natural gas in Michigan as well, since there are two facilities that are taking methane that occurs naturally in landfills and turning it into natural gas through this program. The project started out as a pilot project and turned into a permanent program, which is when my company asked me to lead the training program to train the new sales representatives. I was really thankful that they thought of me to lead the training when they were starting the new program, which was really exciting!
What advice would you give to someone interested in pursuing a career in the renewable energy space?
Definitely just take the chance to do it. But also don't be afraid to start at an entry level position. I started out as part time, and as long as you work really hard, the companies that are working in sustainability understand that they need to take care of their employees. So as long as you share the values with the company, then that company will be pretty quick to recognize you and it'll be a really fulfilling position.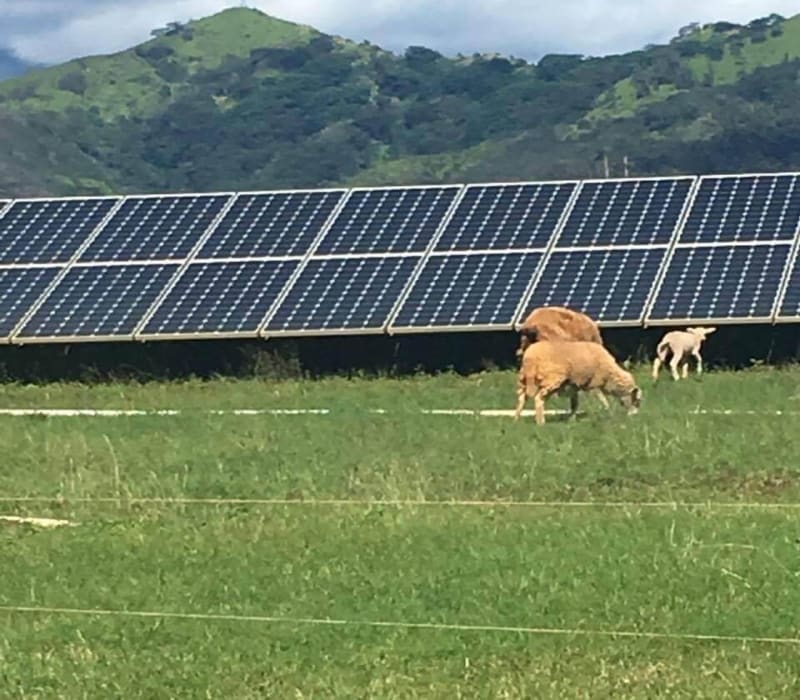 Photo of sheep in a solar field in Kauai, Hawaii that Cat took on a university field trip to learn about renewable energy