Solar Careers in the Clean Energy Industry
Interested in pursuing a career in the solar and clean energy industry? Whether you're a college student or a recent graduate looking to land your first job in the clean energy industry or are interested in transiting into the industry, this preparation course is designed for you!
During this course you'll learn about the trends in the solar industry, what types of solar and clean energy entry and mid-level positions are available, and tips on how to best prepare yourself for a career in clean energy. Additionally, you'll also gain access to our Solar Industry Job Search Toolkit, featuring a list of company career pages and job boards to help you with your job search.
Solar Jobs, Careers, & Trends in the Solar Industry
Career Trends in the Clean Energy Industry
In 2020, there were approximately 230,000 solar industry employees across the country. The solar industry is currently on a trajectory for reaching 400,000 solar jobs by 2030 and will need to reach 900,000 workers by 2035 to reach President Biben's 100% clean electricity goal.
Solar Job and Sector Representation
Within the solar industry in 2020, employment in construction-related positions represented 67% of solar jobs, while 14% were manufacturing jobs, Sales and Distribution represented 11% of the jobs while Maintenance and Operations represented 4%. Another 4% of the industry is made up of positions in finance, legal, advocacy, communications, and research. Within the solar industry, 55% of the jobs are in residential solar, 19% are in utility-scale solar projects, 18% in commercial, and 8% in community solar.
Projected Growth for Solar Installation Jobs
The U.S. Bureau of Labor Statistics listed solar photovoltaic installers as the projected fifth fastest-growing occupations between 2020-2030, with a growth rate of 52%. The median pay for a solar installer in 2020 was $46,470 yearly. Wind turbine service technicians are projected to be the occupation with the second-largest growth, at 68% growth between 2020-2030.
Solar Industry Trends Additional Resources
For additional resources on trends in the solar energy industry, check out these two reports highlighting job growth and statistics in the solar and renewable energy industry.
Different Types of Careers in the Solar Industry
There are dozens of different types of positions in the solar industry, ranging from technical jobs to solar sales positions, and business and operations roles required to run a company. Below you'll find a short list of some of the different positions available within the solar industry along with a brief description of the role.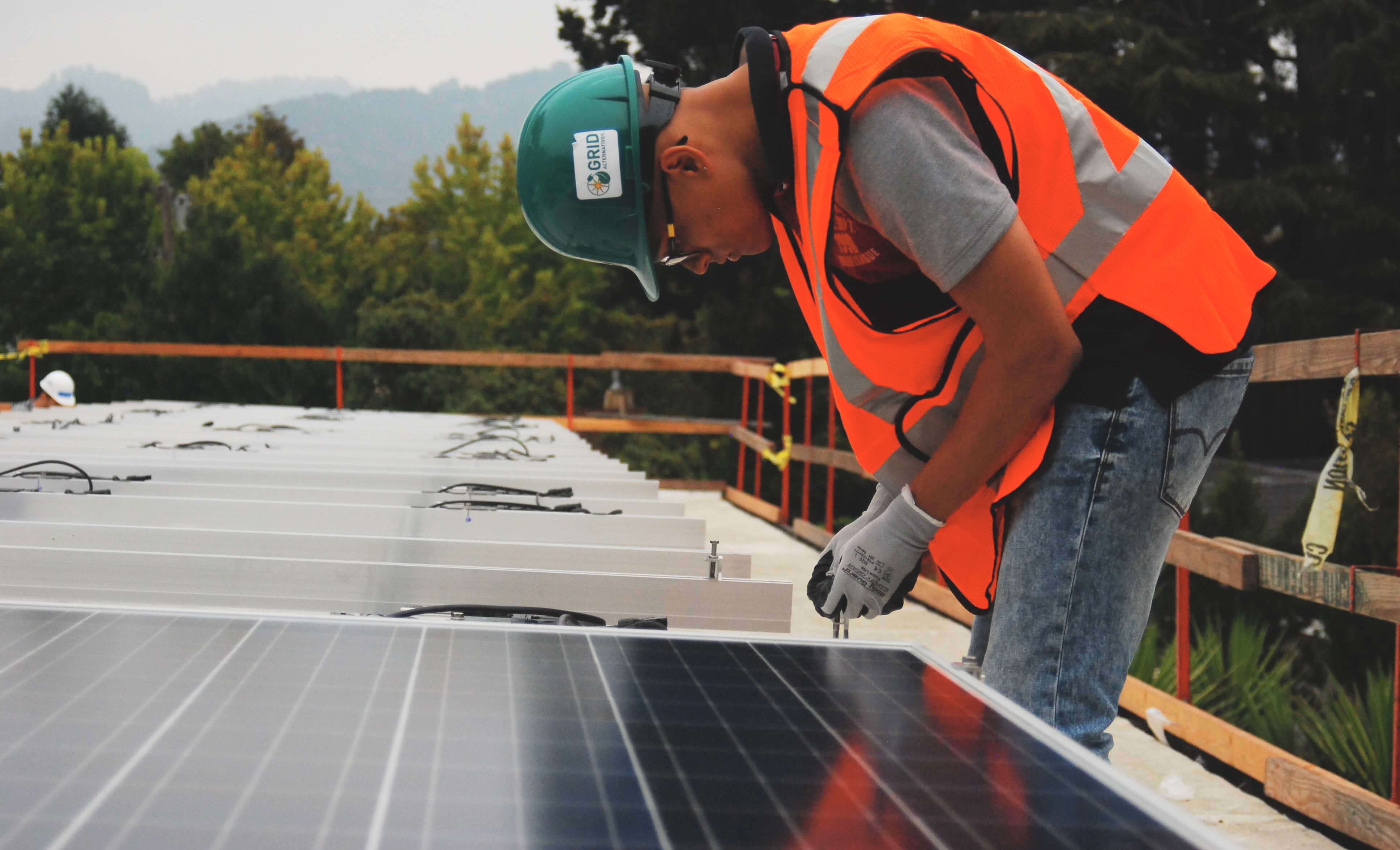 Technical Jobs
Design Partner / System Designer

: Responsible for designing solar arrays, including creating the layout of the solar system, how large a system will be, system specs, and more.

Certified Electrician

: Installs solar systems, performs work for existing customers on diagnosing electrical components and issues, and interacts with emerging technologies.

Construction Planner

: Determines if construction is needed on electrical, roofing, or existing structures prior to solar installation, reviews systems for upgrades, tracks project schedules, budget, and deliverables.

Foreman

: Provides leadership and technical expertise for solar installation team members on the job site to ensure quality of work, safety, and timely project completion.

Roofing installer

: Assists with roof solar installations and roof repairs.

Software Engineer

: Creates, tests, and deploys software updates, upgrades, and new software systems.

Solar Installer

: Installs solar panels on buildings, businesses, and homes.
Sales Positions
Account Services Representative

: Provides services for existing and prospective customers, including resolving customer issues, providing product support, and resolving customer concerns.

Clean Energy Ambassador / Field Sales Consultant

: In-person solar salesperson in stores and businesses.

Customer Support

: Facilitates and resolves customer issues and concerns, as well as provides product support for customers.

Sales Representative

: Solar salesperson that researches and sells solar to new and prospective clients both virtually and in-person.
Communication Roles
Communications Specialist

: Manages external and internal communications for a company, including press management, print and digital resources, the company's online presence, events, and more.

Social Media Specialist

: Larger companies might have an individual or team dedicated to producing content for and managing the company's social media presence.
Other Business Roles
Accounting

: Accountants and financial professionals manage the business's financials, payroll, and other financial tasks.

Credit and Collections Coordinator

: Provides accounts receivable collections for customers along with analyzing the business's financial statements and trends.

Human Resources

: Manages recruitment and hiring, new employee onboarding, employee benefits, and directs the administrative functions for an organization.

Recruiting

: Recruiters manage the company's recruitment efforts.

Scheduler

: Schedules installations, operations, and maintenance appointments for solar installers and technicians.

Web Development/IT

: Many solar companies either have a web developer/IT department on staff or might use a consulting company for these services.
Additional Resources: Solar Jobs
The Interstate Renewable Energy Council's Solar Career Map is a great resource to learn more about the different types of positions available within the solar industry. The map highlights 40 jobs available in the industry, including entry, mid-level, and advanced positions in manufacturing, system design, project development, and installation and operations. The map highlights various career pathways along with job details, skills, and requirements for each position.
How to Prepare for a Job in the Solar Industry
University Courses and Certificates for College Students
For current college students in undergraduate or graduate school, your university might offer stand-alone classes or certificates related to solar, renewable energy, or clean energy. Taking either a course or a certificate in solar or renewable energy will allow you to learn more about the industry and can help you stand out in the interview process, even if you don't have any experience in the industry. Certificates are a combination of courses that are all related to the same theme. Receiving a certificate in a topic related to renewable energy shows a higher level of mastery in comparison to a course, and can provide you with more in-depth knowledge on the topic.

Taking University Courses & Certificates if You're Not Enrolled at a University
If you are not currently enrolled at a university, but are interested in taking a course or receiving a certificate with a focus in renewable energy, some universities might allow you to enroll in a single course without applying for full university attendance in a degree program. All universities are different and rules regarding registration in classes for non-enrolled university students can vary by university. Check with your local university, or with a university that offers online courses, to see this option might work for you.
Technical Schools
If you are looking for a technical job in the solar industry, such as a solar installer or electrician, certain positions might require either experience in the field or education. Depending on the job you are applying for, some certifications might be required while others are voluntary. Review the requirements of positions that you are interested in to see what types of education and/or experience is required for that specific position. For candidates interested in being a solar installer, some installers take courses where they learn about solar installation, safety, and/or system design at technical schools or colleges.
Licensing
Depending on the job that you are applying for, the state you work in might require solar licensing. Licensing requirements can differ by state. To review the license requirements for solar jobs in your state, review IREC's solar licensing database.
Certificates
Additionally, there are many Certifications that professionals can receive on certain subjects. The North American Board of Certified Energy Practitioners (NABCEP) provides many free and paid courses on various renewable energy topics.
Internships and Fellowships
Internships and Fellowships are another great way to gain experience in the solar and renewable energy industry and to learn about what different types of positions you might be interested in pursuing.
Internships
Many solar companies offer part-time, full-time, summer, and year-round internships. Internships can be a great way to gain experience while currently in college, after graduation, or for someone later in their career looking to transition into the clean energy industry. To find internship opportunities, you can typically filter by employment type to select "Internship" when searching on a company website, or on job boards such as LinkedIn.
Fellowships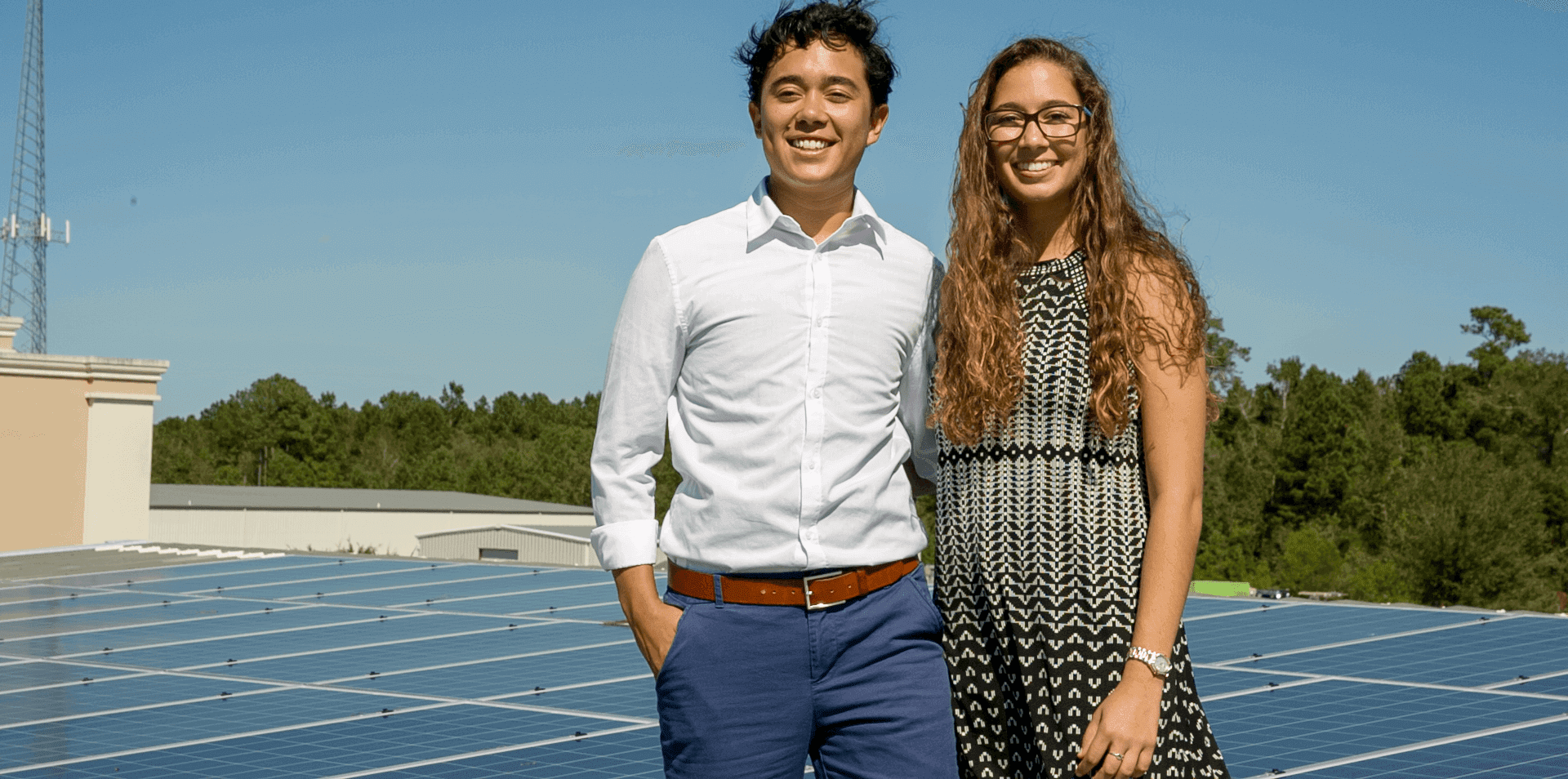 There are also many Fellowship opportunities available that are either volunteer or paid, that provide learning opportunities along with experience in the industry. Here are a few Fellowship opportunities available:
1. RE-volv's Solar Ambassador Fellowship: RE-volv's Solar Ambassador Fellowship is a year-long volunteer fellowship that gives college students and community members the opportunity to spearhead a solar project in their community using RE-volv's innovative solar financing model. Through the Fellowship, Solar Ambassadors learn about solar energy, finance, policy, and technology, community engagement, and communications.
2. Grid Alternatives SolarCorps Fellowship Program: The national SolarCorps Fellowship Program is an opportunity for highly motivated and enthusiastic people to join GRID Alternatives for an 11-month, paid term of service to their community.
3. Solar United Neighbors Go Solar Program Fellow: The part-time Program Fellow will join a team of Program Coordinators and Specialists in supporting state program field staff in their day-to-day implementation of solar co-ops.
4. Women of Renewable Industries and Sustainable Energy Solar Power Fellowships: The rising Solar Fellowship Program gives aspiring solar professionals from diverse backgrounds the opportunity to pursue a career in renewable energy.
Solar Industry Job Search Toolkit
Solar & Clean Energy Job Boards
To help you in your search to find your next job in the solar industry, the job boards below would be a great place to start looking for jobs in the solar, energy, and renewable industries. Many small and large companies will post their open positions on job boards like the ones below.
Solar & Clean Energy Companies Job Posting Pages
In addition to the renewable energy job boards, another great place to look for jobs in the solar and renewable energy industry is to look on a company's careers page. Below are links to some of the largest solar company's career pages.
Solar Installation Companies
Manufacturers & Other Solar Companies
Solar and Renewable Energy Nonprofits
Government Jobs
There are many opportunities to work for the government or at national labs on renewable energy. Below are a few places to begin your search for jobs in these areas:
Solar Industry Associations and Councils
Trade associations, business networks, societies, and councils can also be a great way to network, attend conferences and webinars, stay up-to-date on clean energy news, and learn about potential job openings. Many associations require a paid membership, providing you access to regional networks, discounts on webinars and conferences, access to webinars, newsletters, and more. Below are some of the solar industry associations and councils: