Solar Ambassador Program Employer Information Center
Gain confidence hiring a RE-volv Solar Ambassador Alumni
Since 2014, RE-volv has trained nearly 400 Solar Ambassadors from more than 30 universities across the country in solar, communitications, and community engagement. Our Solar Ambassadors have experience leading a project to bring solar energy to nonprofits in their community. Through their training and experience as Solar Ambassadors, our program Alumni can provide valuable contributions to solar and renewable energy companies.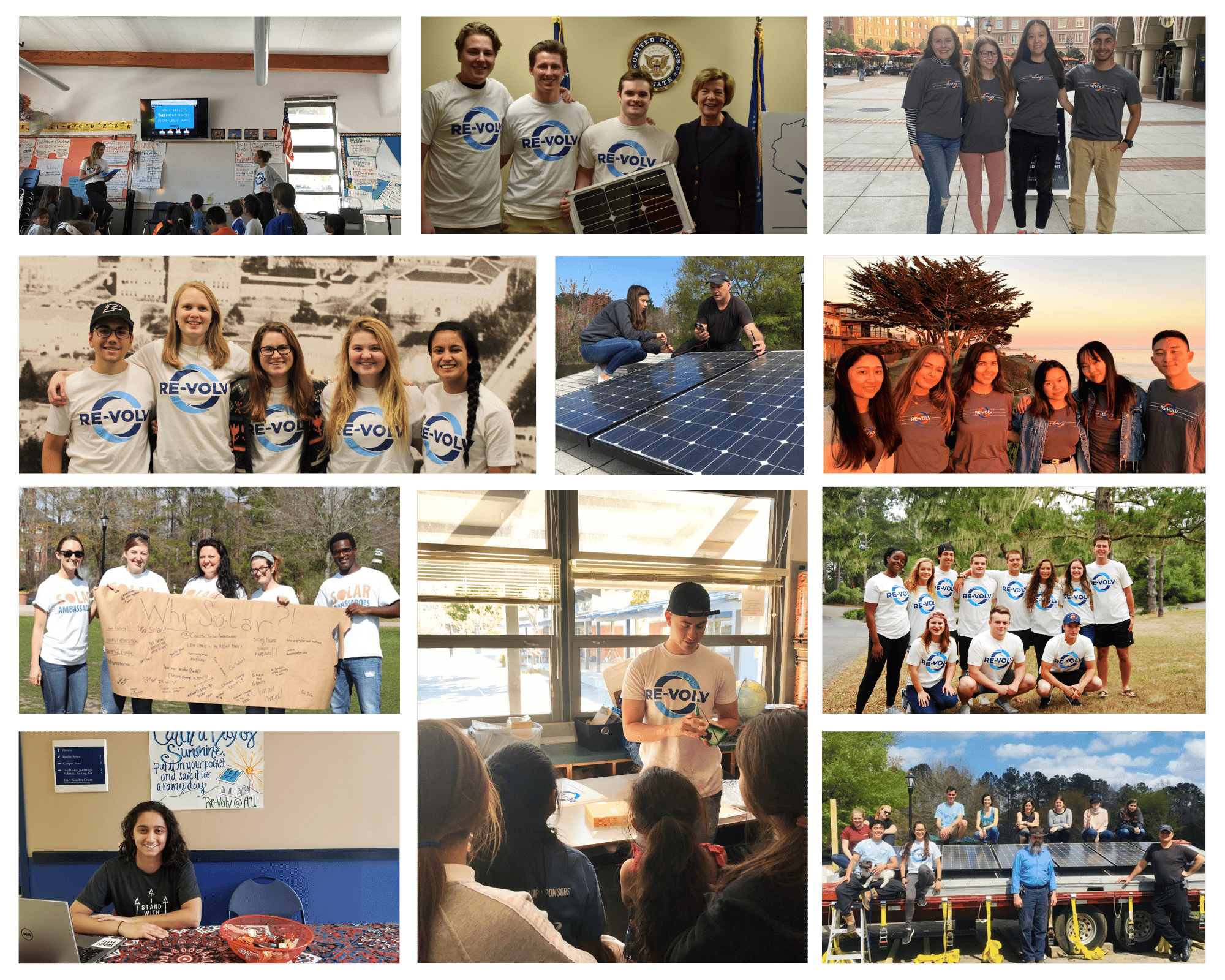 About the Solar Ambassador Fellowship
RE-volv's Solar Ambassador Fellowship trains the next generation of clean energy leaders while providing Ambassadors with the skills and tools to bring solar to a nonprofit in their community.
We provide our Solar Ambassadors with professional development opportunities, including training in solar energy, technology, sales, and finance, event planning, communications, and community engagement as well as project management experience in bringing solar to a local nonprofit. Solar Ambassadors work in teams to bring solar to a local nonprofit, including finding nonprofit leads, walking the nonprofit through the solar proposal, hosting a ribbon cutting event, creating a highlight video, and educating the community about solar.
As part of the Solar Ambassador program, Fellows gain the skills needed to be a competitive candidate for a variety of positions at solar companies upon graduation.
Solar Ambassador Fellowship Certificate of Completion
Our Certificate of Completion is a 120-hour certificate that Solar Ambassador Fellows receive after the successful completion of the year-long Fellowship experience. The Certificate of Completion provides employers with confidence that the Solar Ambassador Alumni successfully completed the requirements of the Fellowship and are prepared to successfully enter the solar and renewable energy fields.

Requirements for the Certificate of Completion
Training and Professional Development:
1.

Attend 2-Day Solar Ambassador Leadership Summit

2.

Attend minimum of six solar professional development workshops

3.

Complete RE-volv's Solar Ambassador Bootcamp Training Course

4.

Complete RE-volv's Solar Career Preparation Training Course
Projects and Experience:
5.

Pitch solar to nonprofits and generate leads

6.

Plan and host a minimum of three solar education events

7.

Write a blog post about renewable energy

8.

Educate the community about solar energy
Recruit RE-volv Solar Ambassador Alumni Talent
If you're an employer interested in recruiting RE-volv Solar Ambassador Alumni or recent graduates of the program, we invite you to get in touch with our team. We look forward to sharing your employment openings with our qualified Solar Ambassador Alumni.